I'm a big believer in keeping your word and doing what you say you're going to do, and I wasn't let down by Dean and his company. The workers were efficient and left my apartment complex spotless after the grouting was complete."

Sinkhole Solutions

Our local, American made product solutions will not only remediate your structure, but lift up the local economy.

Helicals:
Helical piers are ideal for applications where there is a need to resist both tension and axial compression forces. Read More

Compaction Grouting:
Compaction grouting can strengthen soil that is weak or has broken apart over many years. Read More

Injection Piers:
Injection piers utilize both the underpinning and the compaction grouting method. Read More

Chemical Grouting:
Chemical grouting is mainly used in areas where shallow sinkholes have formed . Read More
Global Underpins

Made with pride from American Steel
Steel underpinning is an effective alternative that takes the load of the foundation system off the soft soils and extends it deep into the ground to load bearing strata capable of supporting the structure.
Steel underpinning is an economical solution that is fast, non-intrusive, clean, and free of vibration and noise
compared to other techniques. The work can be performed in tight spaces , inside and outside, with minimal disturbance to the surrounding areas. In most cases the foundations can be raised back into position closing cracks and correcting other structural problems.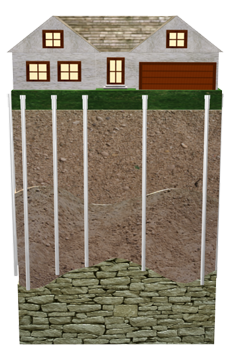 Steel underpinning won't affect the aesthetics of the structure because the installed system is completely below the ground.
Every underpin installed by GSS, Inc. is backed with our 30 year, limited lifetime warranty.